SEA FREIGHT SERVICE
HML's ocean freight services include:
Full container cargo (FCL)
LCL shipping (LCL)
Transportation of Project Goods / Overweight / Bulk Goods / RO / RO
Transport Dangerous/Refrigerated/Special Goods
Combined shipping by sea-air/sea-land
1. Process of sea freight service.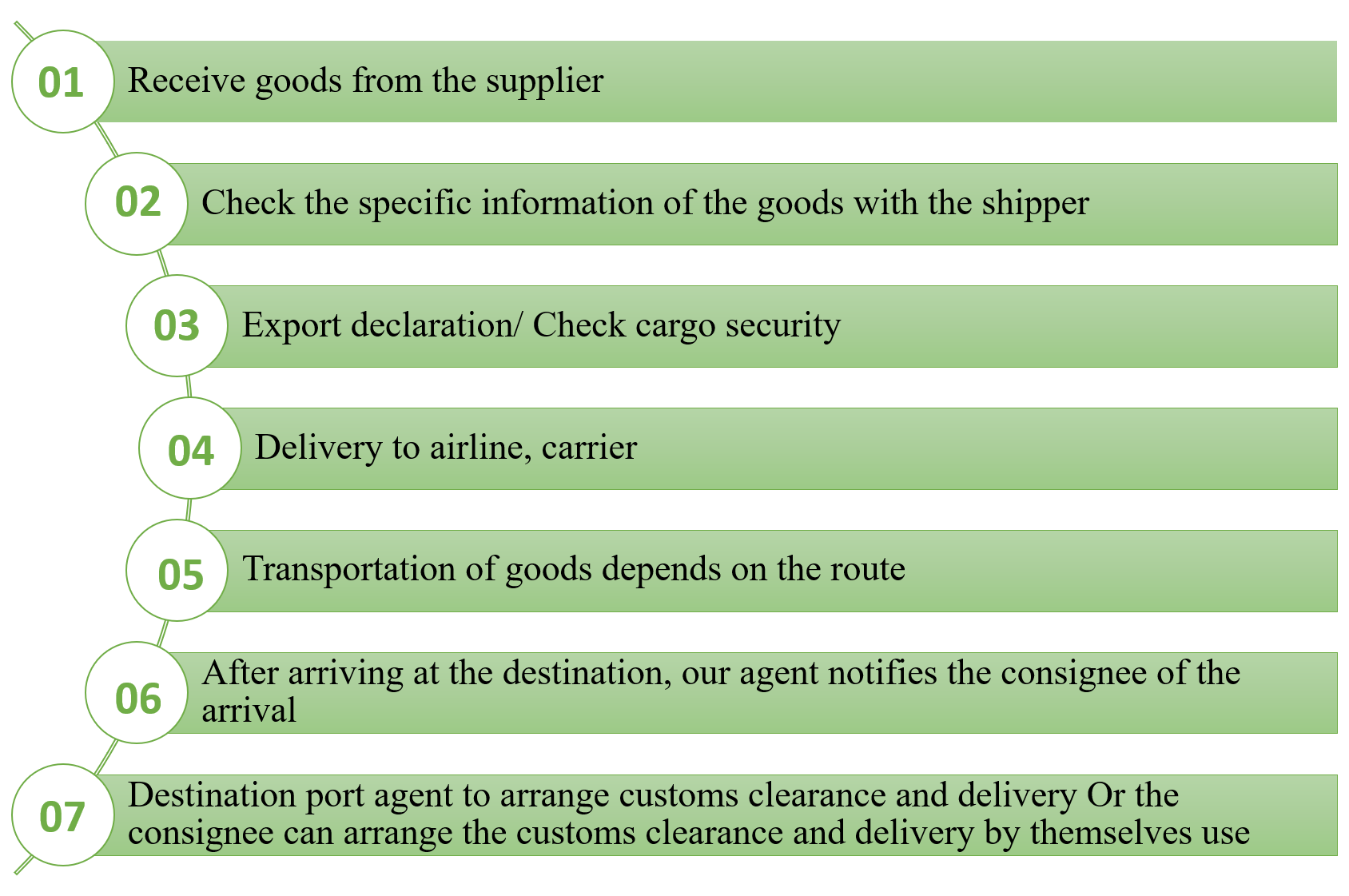 2. Container size and classification
In order to meet the needs of standardizing containers used on a global scale, the ISO 668:1995(E) set of standards has clearly stated standards for specific container sizes and codes as follows:
About width: All ISO containers are 2,438m (8ft) wide

About height: Currently, containers are divided into two types, normal and tall. For a regular container, it is usually about 8 feet 6 inches (8'6") tall. Meanwhile, the tall container has a height of 9 feet 6 inches (9'6").

About length: 40 feet container is taken as standard. However, there are still many types of shorter containers, but when designing, it is necessary to calculate how to arrange and place a 40-foot container that still has a 3-inch gap in the middle.
For example, 2 20′ containers will fit under 1 40′ container with a 3 inch gap between these 2 20′ containers
According to ISO 6346 (1995), sea containers include 7 main types as follows:
Department Store Containers

Bulk cargo containers

Specialized Containers

Insulation containers

Open roof container

Container ground

Container Tank
<<Types of containers commonly used in shipping… More>>
2. Advantages of transportation by sea
Sea freight can serve to transport all types of goods, except for items on the prohibited list.

Transport goods with a large volume and size.

The carrying capacity of sea transport is not limited like other forms of transportation. Allows the carriage of many types of goods.

Low cost. Shipping by sea is considered the top priority in transporting goods between countries because it transports a large volume, so the cost is also reduced.

The problem of collision during transportation is also limited, safe for goods. Because the sea lanes are very wide, collisions are also rare.

Flexible ship schedule, proactive in planning transportation and delivery.
3. The reason why you should choose HML to become a shipping service provider by sea.
With many years of experience in sea freight, HML is confident to bring customers the best service quality, the most competitive price and the most professional staff.
Quick, complete, free service consultation. Answer customer questions anytime, anywhere

Confidentiality of customer information

Ready to compensate for loss of goods if due to our shipping error.

Simple, fast, professional delivery procedures,

Competitive freight rates due to contracts with shipping lines and airlines such as COSCO, ZIM, MSK, ONE, HPL, EMC, LITCO, YML, WHL, CMA, OOCL, MSC …..

Large agent network system, covering the whole world.

The staff is well-trained, always working with a high sense of responsibility with the motto ONTIME – EVERYWHERE.