AIR FREIGHT SERVICES
Transport by air is a form of transportation using a specialized aircraft to transport goods (cargo Aircraft or Freighter) or carried in the belly of a civil aircraft (Passenger Plane). Up to now, goods transported by air for a small proportion of the total volume of international transport (less than 0.5%), but reach about 30% in terms of value..
1. Process of Air freight.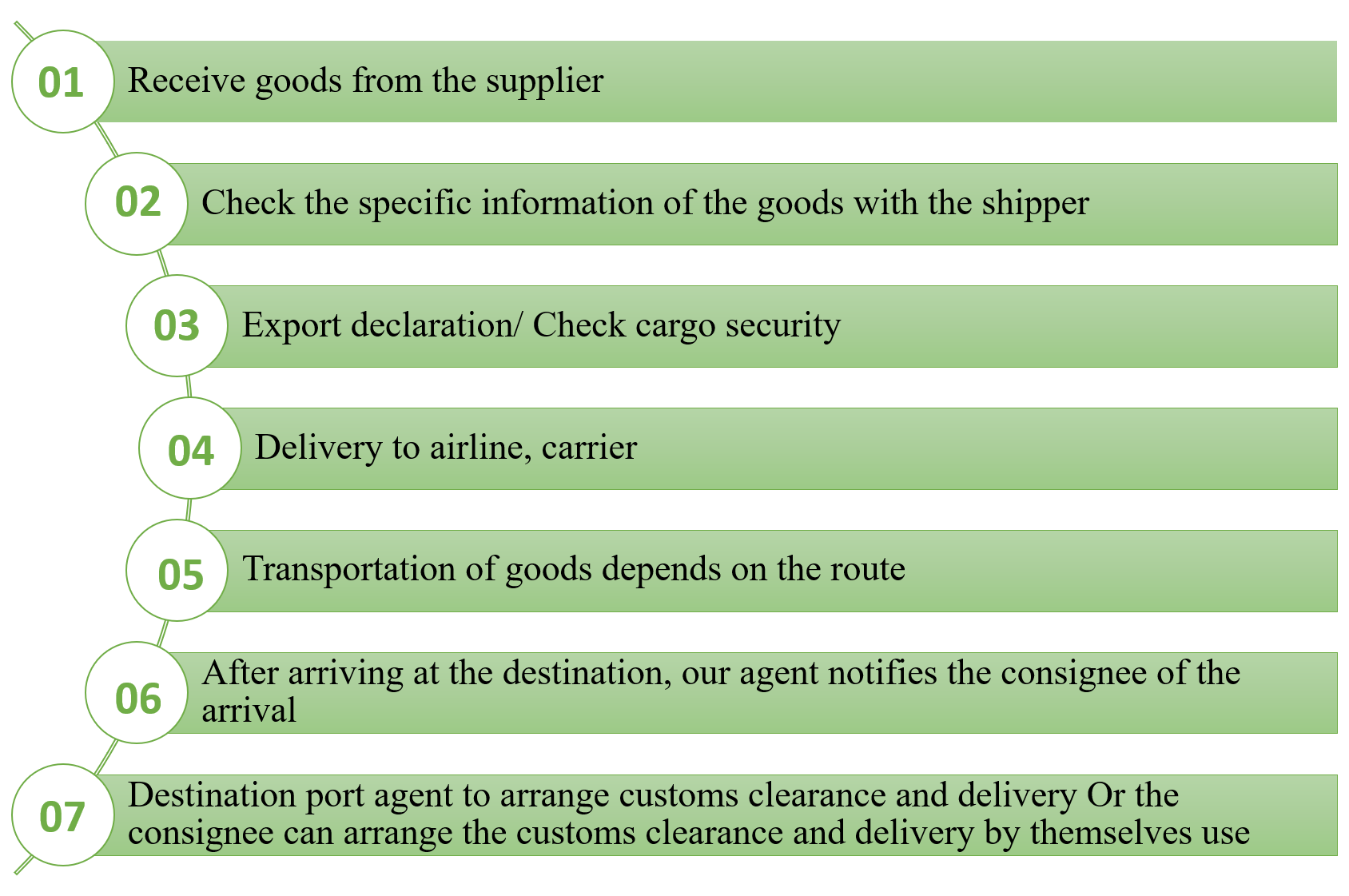 2. Types of Air freight services:
Airport to Airport Services

Door to Door Delivery Services

Sea – Air – Land Combine Services

Express Delivery Services

E-commerce Delivery Services
3. Types of aircraft commonly used in air transport.
There are 3 types of air cargo service aircraft, including:
Passenger Aircraft/ Passenger flight (PAX): an aircraft that carries both passengers and cargo

Freighter (F)/Cargo Aircraft Only (HIGH): cargo plane

Air cargo charter (charter): Flight charter
<<Types of aircraft commonly used in air transport.….More>>
4. Advantages of air freight services.
Each mode of transport has its own advantages. For air freight services, there will be obvious differences compared to sea freight and road transport.
Fast and safe shipping time.

Suitable for high value items, or items with a short shelf life

Unobstructed by topographical surfaces such as roads or waterways, it is possible to connect almost all countries in the world.

Transport is safe and has a low risk of damage.

Air freight transport has a high level of security because of the airport's strict safety limits and protection for exported goods. )

Lower shipping insurance due to less risk than other methods

Reduce reliance on storage facilities. Since goods can be shipped quickly, this can be a great advantage for inventory control

Due to shorter transit times, insurance premiums for air freight are on average lower than for other modes of transport.
4. Reasons why you should choose HML to be your air freight service provider.
As an experienced company in the logistics field, HML affirms that we can bring customers a quality service experience along with a professional process:
Quick time, response timely to customer's plan

The most reasonable and competitive freight rates when being a long-term partner of many major airlines (Bamboo, Qatar Airways, vietnam airlines, ..)

Simple and quick procedure.

The staff is well-trained, always working with a high sense of responsibility with the motto ONTIME – EVERYTIME.